It's that time of year again when we show our dads and granddads just how much we appreciate them.
Having said that, buying gifts for the men in our lives can be pretty difficult so with the help of some brands I have come up with the ultimate father's day gift guide. So whether they are foodie dads or like to indulge in a bit of grooming, this guide might be that spark of inspiration you're looking for.
Personalised Letterbox Cake
Is there anything better than cake being delivered through your letterbox? This is a wonderful gift for dads who have a sweet tooth.
There are loads of designs to choose from and you can have select from a range of flavours including chocolate, lemon drizzle or sponge. There are gluten-free, wheat-free or diary-free. The cake arrives in a really cute little box which makes the gift feel that bit more special.
Price:
Range from £14.999 – £17.99
Readers of CubKit can get a 15% discount with the code CUBKIT15
My BURGERbox
My BURGERbox is a monthly gourmet burger recipe kit which will appeal to most foodie-dads. I didn't really know what to expect as I had tried out some recipe boxes in the past, but this felt like a real treat.
Inside was a burger and all the tasty trimmings complete with a brioche bun. There were also loads of special extras including a chocolate chip scone and biscuits. It's a novel idea and a great idea for those dads who enjoys burgers. To make it extra special for my hubby I treated him to some homemade chips too.
The burger itself was really tasty and sourced from Conisbees Family Butcher so there was no scrimping on quality here!
Price:
Range from £12.95 a month for subscription or £15.95 with no subscription.
https://www.myburgerbox.co.uk/
Bird & Wild Coffee
"I need coffee" Is a regular phrase in our house.
Sometimes a big cup of coffee is all you need to keep you going when the kids are keeping you busy or you're off to work. I am always on the lookout for new blends to try so when I was approached to try an bird-friendly coffee I was intrigued.
Bird & Wild is shade-grown coffee with part of the proceeds donated toward RSPB. Coffee shrubs grow beneath a canopy of shade trees, with the coffee allowed to develop complex and smooth flavours. This ensures that tropical 'agroforests' are preserved and migratory birds find a healthy haven when they travel from northern climes to faraway farms producing beans.
We were sent two coffees to sample, the Espresso Blend and Seasonal Blend. I have my coffee using either a french press or a stove-top coffee pot. The espresso blend had a gorgeous coffee aroma which filled the kitchen with. It had a full yet subtle taste, with no bitterness at all.
Price:
Seasonal Blend Medium Roast, Fairtrade, Organic Beans and Ground 200g – £4.99
Signature Espresso Blend, Fairtrade, Organic Beans and Ground 200g – £4.99
Stockists:
NUTMAD Activated Almonds
If you're after a subscription for the healthy-conscious dad then this is ideal. NUTMAD is a female founded company on a mission to offer a delicious high-quality and healthy snack.
There's a bit of science behind why activated nuts are better for you, but they are delicious and leave you feeling full of energy. Non-activated nuts can make you feeling a little uncomfortable and perhaps nauseous due to being hard to digest.
These almonds are seriously yummy. I was put off eating nuts as they left my stomach feeling really heavy, but these don't do that. You can select either plain almonds or seasalt almonds.
The seasalt almonds are incredibly tasty, crunchy and very more-ish. I think I can call off the hunt for a guilt-free treat that will keep my energy levels up while looking after the kids.
Price: Subscription starts at £5.90 with either a weekly or fortnightly option.
Yorkshire Beer Experience
Take your dad on a virtual pub crawl with this ultimate beer lover's gift. I may be a little biased but I do love Yorkshire ale.
Beers include Cragg Vale Bitter, Great Newsome Frothingham, Tipsy Pig Ale, Timothy Taylors Landlord Pale Ale, Ilkley Crossroads West Coast IPA and Keelham Squiffy Sheep Bitter. All these are paired with Yorkshire snacks and tasting notes.
Price: £30
Personalised My Favourite Drawing Key Ring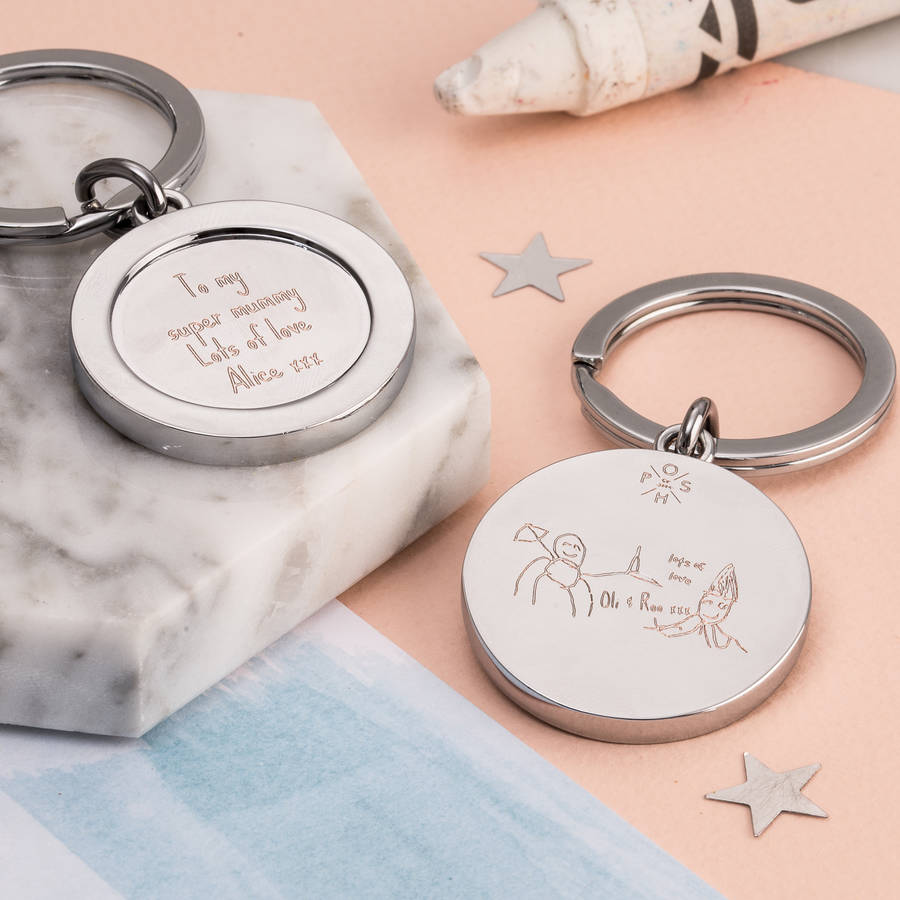 This is a heart warming gift that can be personalised with your child's favourite drawing. We did something similar a few years ago and it has become a much treasured gift.  You can also include a special message.
Price: £25
ThatchFace Beard Oil
ThatchFace is a nice gift for a dad who likes to keep their epic beard in good condition. Created by a testicular cancer survivor, ThatchFace beard oils are lovingly created in the UK and supports male cancer charities by 10% of profits.
There are three types of beard oils available:
– Got Wood beard oil draws on scents of cedarwood, sandalwood, pine needle and a hint of lime to give a warm masculine scent.
– Wild Zest beard oil features orange, lemon, lime and ylang ylang to give a vibrant burst
– Full minty beard oil focuses on the freshness of peppermint paired with eucalyptus
Price: £9.99 available to purchase on www.thatchface.com
What are you hoping to get your dad for Father's Day?
This post contains affiliate links, some samples were received in exchange for an honest review.